Hello, hi!
Konferencja Projektowanie rozwiązań dla edukacji is an online educational event about design thinking and "new" practices in education. The project is led in Polish, therefore the following text is in Polish. Please click here if you would like to get a recap in English. Thank you!
Konferencja online "Projektowanie rozwiązań dla edukacji" to projekt organizowany przez niezależną firmę DT w Szkole, prowadzoną przez edukatorkę design thinking, Ewę Tomczak. Wydarzenie to skupia nauczycieli, warsztatowców, dyrektorki i dyrektorów szkół i inne osoby związane z edukacją po to, aby dzielić się wiedzą i nowymi pomysłami na polską (i nie tylko) edukację. Podczas konferencji można poznać sposoby organizowania zajęć, inne podejścia do planowania roku szkolnego czy prowadzenia zajęć pozalekcyjnych, lub posłuchać o narzędziach dla nauczycieli.
W tym roku pojawiły się następujące tematy:
Przyszłość edukacji – scenariusze 2046, Marek Banaszak
Kreatywność według polskich nauczycieli, Katarzyna Marczyk
Design thinking a kompetencje przyszłości, Marta Leoniuk
Nie tylko nauczanie – platforma edukacyjna w promocji szkoły, Małgorzata Skulska
Młody Lean Lider – praktyczna nauka szczupłego zarządzania, B. Pieńkowska, H. Sikorska
Edukacja zwinna, czyli jaka?, J. Cholewińska, J. Durszewicz
eduScrum – współpraca, która dodaje skrzydeł, M. Orbitowska, D. Idzikowska, P. Jarzyna
Moje wystąpienie, które zatytułowałam "Dlaczego eLearning to NIE edukacja przyszłości?", dotyczyło obalenia powstałego w ostatnich czasach mitu, że "już niedługo szkoła będzie tylko online" i że sens ma tylko nauczanie online. W prezentacji pokazałam najczęstsze argumenty wspierające tę tezę (zebrane w wywiadach online z nauczycielami i uczniami) i przedstawiłam moje podejście, dlaczego mają one słaby sens. Aby poszerzyć i przekazać prawdziwe podejście do zajęć online, przedstawiłam też moje pomysły na to, jak wykorzystać to co daje eLearning, aby faktycznie przenieść zajęcia "do internetu" i zrobić to dobrze!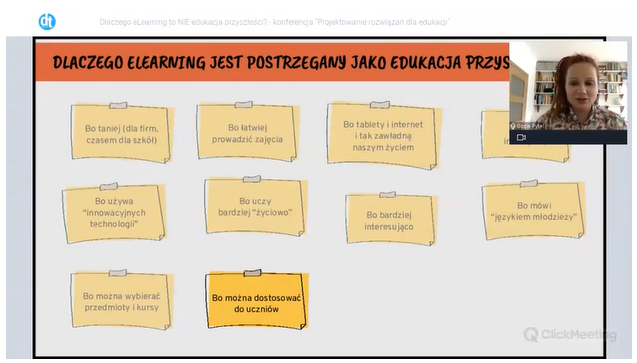 Każdy może mieć dostęp do nagranych wszystkich webinarów! Można je zakupić na stronie DT w Szkole, i korzystać z zawartej w nich wiedzy kiedy tylko przyjdzie na to ochota!